Tantra Teachers Training Certificate Course
Welcome to Parimukti Tantra
Parimukti Tantra offers Workshops, Tantra teacher training certification in Goa, India and tantra couples retreats in India set in a safe, caring & supportive environment.
Our intention is to build a conscious, loving community of open- and like-minded individuals to create a safe space for everyone to come and share themselves honestly and receive support and healing.
Self acceptance is the foundation of our courses and Trainings. Out of self acceptance personal growth can unfold as effortlessly as a gentle walk in the park.
We invite everyone to come along on this inner journey of self love to uncover their authentic self.
Tantra is a collection of various techniques used to explore and know our selves, through the other. We explore the depth of our souls through these techniques as we examine both our conscious and unconscious behaviours, our desires and our fears.
 Tantra teacher training in India emphasises that our lives are primarily governed by two forces, the desire for intimacy and our fear of the mystery of death.
The path of Tantra leads to self knowing by engaging with these primal forces, immutable desires and acknowledging our deep rooted fears. It is a spiritual path that walks you through the spectrum of human experiences instead of denying or evading them.
This is what makes tantra truly beneficial for your personal life. Instead of trying to mute our energies we open up to them and transform them into energy that heals, nourishes and helps us transcend to higher planes of awareness.
Why should you join a Tantra Couples Retreats in India?
A lot of our problems start with a refusal to accept our self the way we are, we are always learning to be something, someone or somewhere else.
We are constantly being  judged, compared and evaluated to our surroundings, peers or our past or future selves. Funny thing is, we are most often our own judge. Our past becomes the lens through which all over behaviour is examined.
Our self esteem, our feelings of self-worth as individuals, is constantly under attack from peers, our past mis steps, by people who can't see us as we truly are and even our relationship partner.
Also our own constant comparison between who we are and who we want to be separates us from our true selves.
Our need to be consistent and aligned to our past becomes a prison that defines our reality.
Tantra couples retreats in Goa India can help us see ourselves as we truly are; limitless and much much more than our thoughts and self limiting beliefs.
Our true nature cannot be contained by the perceptions of other people and the day we acknowledge our freedom is the day we realise that we are animals, humans and divine beings, all at once.
Tantra couples retreats in Goa India helps you to come to this realisation through countless small realisations of the divinity inherent in life and existence. we explore divinity through life not outside of it
It is sometimes  difficult for us to see and accept our own divine nature, our 'dark' side and disturbing emotions, thoughts or habits.
However, to the realise the divinity in everything we need to live totally, accepting and embracing all of our qualities.
Tantra is a non-judgemental path of self exploration through our darknesses, It releases us from our past, and enables us to make a fresh start free of perceptions, judgement and burden of expectations.
Practicing Tantra couples retreats in Goa Indiathus brings liberation through releasing the striving to be or have something outside of what currently 'is'.
Radical self acceptance becomes the beginning of our journey and not the end.
Tantra works especially with those energies that are often considered 'lower' or less evolved than the high vibrations of peace, joy and love.
The most important 'lower' energies are sexual desire and survival but also includes grief, pride and so on.
To live an abundant life it is necessary to experience the entire range of human energies and emotions.
The repression of these primal forces can give rise to pain and suffering and shame causing untold harm.
Instead of remaining ignorant to these forces of survival and sensuality Tantra encourages us to take a deep look into them and bring them to our conscious attention.
Tantra couples retreats in Goa India can help us bring what is locked up in our dark basement into the light of day.
These very energies can become incredibly powerful and bring immense joy and bliss if properly harnessed and consciously transformed into love and acceptance.
In many of the situations we live through sensuality and fear of death are the driving forces in the movements we make, wether it be intimate relationships, jobs or personal projects.
Tantric practices we open up a realm of possibilities by shining the light of attention on them.
By bringing awareness to these powers they are no longer like rapid currents in the river thrashing us from side to side and leaving us gasping for air, instead, through tantra we can transform these energies into forces driving us towards fulfilment and self expression.
WHY PARIMUKTI TANTRA COUPLES RETREATS INDIA ?
So at Parimukti Tantra teacher training in Goa India, our roots lie in acceptance of self and finding love and comfort in our self before manifesting it into a partner or significant other.
Throughout our trainings we focus on making you your own point of reference as an individual, releasing you from the burden of other peoples opinion and expectations.
When we deeply know and love who we are, we are released from relying on outside acknowledgement or fighting the perception of others.
This is where real self confidence rooted in the Self starts to emerge, the beginning of a life long celebration of ourselves. We become the radiant source of joy in our own lives and others.
A basis of self acceptance still involve experiences of failure, rejection, loss and embarrassment but if you are centred within yourself, it doesn't affect your self worth and feelings of belongingness.
At Parimukti we believe that we are all worthy of love, joy, connection and acceptance in spite of any or all our imperfections. We warmly invite you to come on this journey with us.
Parimukti Tantra Teacher Training in India is right for you
If you feel ready to recognise your own inner god/goddess
If you feel ready to accept and celebrate your sexuality and sensuality
If you are looking to find conscious loving relationships
If you are seeking Harmony in your own life
If you are looking for a deeper meaning
If you are ready to occupy the centre stage of your own life
If you are looking to dive into deep blissful experiences
If you are ready for radical self acceptance
If you are finally ready to fall in love with yourself
If you want to explore the deeper emotional reaches of your being
If you want to experience all the above in a safe loving mutually supportive environment
At Parimukti we aim to use the Tantric arts and meditation techniques to shift ourselves into joy, self love and liberation. We have a flexible course structure allowing us to go with the energy of the group to go further into self exploration while keeping a safe and supportive environment.
All exercises are voluntary and conducted with mutual respect.
Please have a chat with us directly on WhatsApp/Email/Phone if you are unsure or have even the smallest doubts about any aspects of the exercise or training.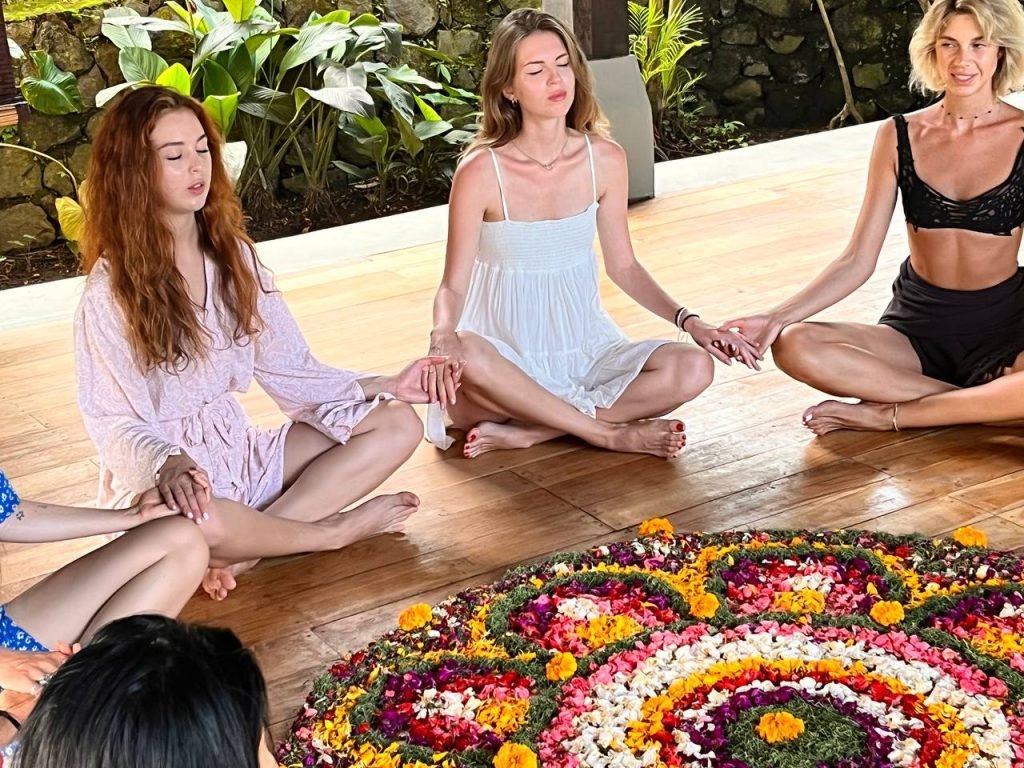 WHERE IS THE PARIMUKTI TANTRA TEACHER TRAINING IN INDIA?
The retreat will be held at the Sunkriti Yoga Retreat Center in Paliem, Goa, India. This beautiful property is located on a secluded beach and surrounded by lush gardens.
The swimming pool area and swasti cafe are perfect for relaxing and throughout the organic garden there are spaces for undisturbed reading or conversations. The small village like land provides a quiet oasis in a busy place like Goa India. This tranquil environment creates the perfect space for our students to fully relax and enjoy the powerful courses we have to offer.
We also take small excursions and day trips that are included in the course fees at Hidden natural locations for advanced exercises like Rebirthing or WatSu practices.
This course is the first step in becoming an effective Tantra Retreats in Goa India and Tantra Couples Retreats in India. Our aim is to give you an authentic experience with tantra allowing you to explore yourself and take the first steps in changing your life. You will learn the basic techniques and beginning meditations to aid others along their path.
In this course we aim to give you an authentic experience of yourself through Tantric meditation techniques, allowing you to live your truth and begin the path to becoming a Tantra teacher training in India.
12 days Tantra Couples Retreats in India
In this trans-formative 2 week Tantra Couples Retreats in India and Tantra Retreats in Goa India, you will learn how to, accept yourself as you are and be open to receiving love from your own self and others. you will learn ancient meditation techniques that will allow you to explore, accept and uplift your inner god or goddess. This will enable you to live honestly, communicate openly and attract other souls into your life who wish to express and experience living on a higher spiritual vibration.
Tantra is Ancient wisdom and techniques that are used to heal our inner masculine and feminine. In Tantra we use our two primal forces, fear of death and drive to reproduce. Tanta helps you access and heal these energy's and deal with the primal drives in a positive healing way. This will enable you to attract other people and partners that aid in your growth and spiritual progression.
Masculine and feminine polarity is beyond born biology we all have a mix of energy's within that when understood, expressed and worked with properly transforms our outward vibration to attract others who help us to grow.
Our Trainings
Tantra Singles & Couples Retreats in India

The Tantra singles & couples retreats in India will help you learn how to, accept yourself as you are and be open to receiving love from your own self and others. you will learn ancient meditation techniques that will allow you to explore, accept and uplift your inner god or goddess. This will enable you to live honestly, communicate openly and attract other souls into your life who wish to express and experience living on a higher spiritual vibration.
Parimukti tantra couples retreat in Monsoon is the best time to get away from the hustle and bustle of regular lifestyles. We recognize that feeling. That's why we created a couples tantra retreats in goa India. Our a non-residential retreats in Goa, India, where you can explore life changing tantra programs with likeminded friends.
Tantra Retreats in Goa India
Tantra retreats in Goa India are perfect for deeply relaxing, connecting with your true self, culturing good health and learning about Traditional Tantra Yoga in a short but valuable time. You can experience the authentic culture of Tantra among a community of great people from all different parts of the world. You might also be surprised at how different you feel after your first tantra retreats in Goa India.